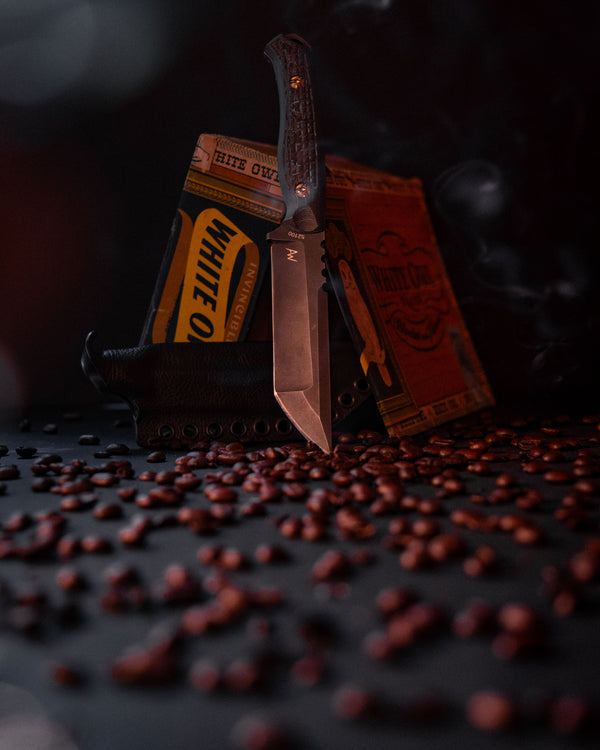 This is the most difficult grind scheme I've ever completed. So difficult in fact, that I was told by multiple colleagues that an angled compound grind couldn't be done on 2" wide abrasives. I have never been one to blame my equipment and I've always loved a challenge, so I set out to prove them wrong. The air felt electric as my hands hovered just a few thousandths over the rapidly spinning abrasive wheel before I went to put in the final grit lines on the main hollow. Finding the right angle to hold the blade required an almost zen-like state of focus as I visualized the wheel running slightly off parallel with the main edge. These lines capture a fleeting prism in time, one slip, one stray thought, and it could look completely different. As a knifemaker, it is my rare privilege to be able to ride the edge where chance meets skill in order to produce beauty with purpose.
I'm very excited to be able to share such an exciting piece with you all today! I hope you enjoy it.
SPECS:
Steel: Cryogenically treated 52100
HRC: 61-62
Sheath: Black "Raptor pattern" Kydex
Handle: "ShadowFrag" texture CamoCarbon Carbon Fiber with flame ano Ticonnector hardware.
DIMENSIONS:
OAL: 9.187"
Blade: 4.5"